Companion Card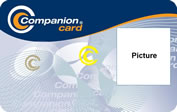 If you have a companion to help you with mobility or other needs, your companion and you both get entry for the price of a single ticket.
The Cygnet Folk Festival is an affiliate under the Companion Card scheme. Please show a valid companion card when purchasing or collecting your ticket to get free admission for your Carer. Please contact us prior to the Festival if you have any further questions.
Information and Assistance
If you require information about venue access or if you would like to request assistance with entry into the venues, contact us before the Festival to make arrangements.
Reserved Seating
We have reserved seating and wheelchair spaces in Festival venues with wheelchair access. There are a small number of venues which do not have wheelchair access.
Let us know in advance if possible, and we'll make sure our volunteers on the door keep the space ready for you.
Wheelchair Access

Loongana Park has easy wheelchair access from the reserved parking bay in the main street (Mary St). Accessible parking bays are also available near the LINC library and on George St behind St James school. Wheelchair access toilets are available in the public toilet block in Loongana Park.
The Town Hall has a ramp entrance from the main street which provides access to the Town Hall Stage and accessible toilets. There will be reserved seating for festival goers with wheelchairs or other mobility impairment. Don't hesitate to contact the Festival volunteers on the door of the venue, well before the concert to identify where you would like to sit.
Carmel Hall has a ramp entrance close to the reserved parking in the car park. There are reserved seats and disabled toilets in the venue.
The Festival Box Office can be accessed from the northern end of George St. Please follow the signs. 
St James auditorium has wheelchair access from Charles Street and through the school.